Sportsbook Payout Fees - Sports Betting Withdrawal Cost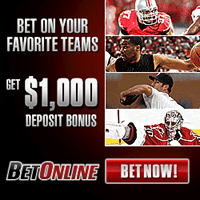 The word 'fee' is not something that anyone really likes to hear, but they are a part of the sports betting process online. Sportsbook withdrawal fees are something that bettors will need to look up and research prior to receiving a payout to make sure they are receiving the maximum amount of winnings, and not sacrificing unnecessarily to the fees. Visiting a page like this is a very good place to start.
SportsbookWithdrawals.com has assembled important information on payout fees that come along with the specific methods that are seen most often at the sites. In addition to that, the most popular online betting sites that have many different payout methods to choose from are covered as well including all the fees for those sites. By the time you are done reading this page, your understanding of how the payout fees work and what the range is per method should be much better.
Sports Betting Payout Fees By Withdrawal Method
Fees will be all over the place for different methods. But they don't always go up and down for the same reasons. Some can fluctuate according to the time it takes to be received. Others can move based on the amount that is being withdrawn by the bettor.
Check Thru Mail or Courier - Check payout fees are conducted through one simple manner, and that is by the time it takes to receive them. If a user wants fast sports betting payouts, then it will cost more. If they want standard delivery, then it will cost them less. Some sportsbooks have just one check option while others will have several.
Cash Transfers From Sportsbooks - A fee associated with a wire transfer is not dictated on time, but rather predicated on the amount that the bettor is choosing to withdraw. Bettors will have ranges of payouts that correlate with a fee for that range. The amount a player wants to withdraw will certainly play an important part in selection if this is the best method to go with.
Money Orders, Cashier's Check, Other Forms Of Paper Drafts - A flat fee will be issued for a money order or a cashier's check, because there aren't other ways that a betting site will choose to send it. The fee associated with it will depend on the sports betting site, as they could be different because of different payout limits.
Funds Re-Issued To Debit Cards - To receive the payout on your Visa or MasterCard debit card, a fee that depends on the amount being withdrawn will be assessed. Like a wire transfer, the amount of the payout will correspond to the payout fee.
Money Wired Directly To Your Bank Account - Relative to the amount of money that can be paid out through a bank wire, the fees are very little. In fact, rarely do bank wire fees exceed $50. Combine that with a payout of several thousand dollars, and it's virtually nothing.
eWallet Payout Fees - For international sportsbook not accepting USA bettors, e-wallet fees can vary depending on the company. Some e-wallets don't require a fee, while others can be a flat fee, or relate to how much is being paid out. This might be the payout method with the most variance in fees.
Withdrawal Fees Sorted By Approved Sports Gambling Websites
Bovada Sportsbook - Bovada is one of the legal sports betting websites that will actually cover one fee per calendar month for their players. Every method on site is available for this, which includes a check, Western Union transfer, and a MoneyGram. For more than one payout per month, a fee of $50 will be applied as a flat rate.
BetOnline Sportsbook - There are three check options for BetOnline. A check in the mail is a $25 standard fee, through a courier is $35, and the ExpressCheck is $50. These are all flat fees with no adjustment. A bank wire is another option, which can incur fees from $5-$75 depending on the amount. Fees for the wire transfers can go from $34 up to $85 on the amount, with Western Union and MoneyGram having different withdrawal ranges.
5Dimes Sportsbook - A certified check mailed out to the bettor will result in a fee from $40-$80, while a money order comes with a flat fee of $80. 5Dimes also has the ability to send funds back to the bank card which was used to originally fund the account, a method that carrier a fee of $15 up to $40 per transaction.
SportsBetting.ag - Fees for SportsBetting include three different checks. Receiving a check through the mail will be a $25 fee, while a courier is $35. For an ExpressCheck, tack on a $50 to accompany that. A wire transfer can see fees up to $85, while the window for a bank wire is set from $5-$75.
Can You Get A Payout From An Online Sportsbook For Free?
Payout fees at online sportsbooks can be a bit of a pain, but sportsbooks recognize this and try to help out by covering some, or providing manageable fees in the process. Sportsbooks want their players to be happy, and paying less in fees is one way to make that happen.
The most common way is to simply use the methods which allow all users to get one free withdrawal every so often. In some cases, this duration may be as long as a calendar month.
The other route is to wager with an online sportsbook which will cover the fees for all withdrawal requests over a certain amount when using certain methods to receive payments. Check each of our reviews for this info!